Remote Learning
We are excited to have launched Google Classroom this year, as part of our remote learning offer to pupils isolating.
For pupils with access to Google Classroom, please use the Wonde password sent home to you to access your isolation home learning.
Our pupils in Nursery and Reception will use Tapestry Online Learning Journal to view learning activities (via the memo feature on the desktop version of Tapestry) and to upload learning activities (accessible using the Tapestryapp or desktop version).
For pupils without access to Google Classroom/Tapestry, please refer to the packs that have already been sent home.
Please see below for further details of our remote learning offer to all pupils:
Click on the document below to open a pdf.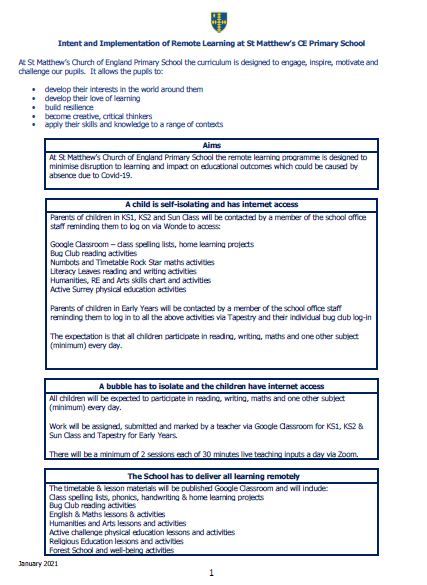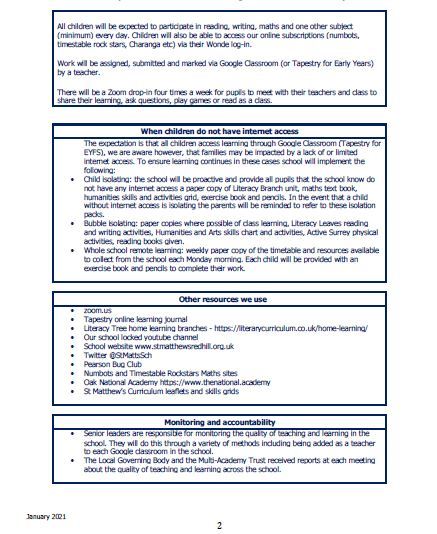 ---
Please click on the image below to find out about our SDBE Multi-Academy Trust Remote Strategy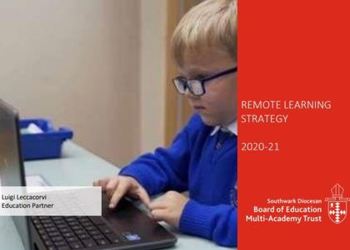 ---
Protocol and Information for Children using Zoom to communicate with school staff
During periods of school closure, staff may use online platforms to conduct live communications with children. These communications will be set up as a short session with a fixed time. Sessions will not happen during school holidays or bank holidays.
Our school uses Zoom to conduct these sessions. Zoom is a trusted platform. The school will be making use of its range of security features, including: setting passwords for meetings; virtual waiting rooms; locking the room once all users are in; as well as disabling screen sharing for pupils, private messaging and file transfer. We will also ensure there are always two members of staff present. If you wish to review Zoom's compliance against GDPR requirements, please click here.
Below are a series of protocol to follow when your child communicates online with their teacher and peers:
Children must wear suitable clothing, as should anyone else in the household.
Any computing devices used should be in appropriate areas, for example, not in bedrooms.
The interaction will be between teachers and children, however in line with eSafety recommendations we advise that you either sit with your child or be in the same room when they are using Zoom.
You will ensure that sessions take place at home, and never in a public place.
Parents and children will not record sessions or take photographs of the session. Information regarding or relating to these sessions should not be shared on social media.
Language and behaviour must be professional and appropriate, including that of any family members in the background. Where possible we would appreciate it if there were no other family members in the background other that the parent supporting the child but we understand that this is not always possible.
Teachers can and will mute participants or even click 'leave' if they feel a participant or their family members are not adhering to the protocol.
The purpose of the session(s) will be communicated to parents and children, via email or through Google Classroom, ahead of the scheduled session.
To access a session, parents and children do not need an account. The Zoom app is also available to download on a range of mobile platforms.
Any other communications or enquires that fall outside of the purpose of the zoom session can be made via the school office info@stmatthews-redhill.surrey.sch.uk
You may also refer to the following policies, which also apply to this protocol:
Child Protection and Safeguarding policy
E safety policy
Acceptable Use policy
Privacy, data protection and GDPR policies
____________________________________
For access to our previous home learning activities, please click here.