Online Safety
Online safety is an integral part of children's education in today's digital world and is embedded in their learning at school.
At St Matthew's we believe that children should not be completely restricted in what they can access; instead we educate them to make the right choices and become responsible users of technology as we believe this will prepare them more fully for their future role in the world.
We teach online safety throughout the year to ensure all children are up to date on how to stay safe as well as assemblies and PSHCE lessons around responsible use.
We also want to help our parents improve their own understanding of online safety issues so they can support their children in using the internet and digital media in a safe and secure way.
Every year we support 'Safer Internet Day', coming together to raise further awareness of e-Safety as well as celebrating the wide ranging uses and benefits of technology.
This year, our theme is "Want to Talk About It? Making space for conversations about life online". Children take part in various activities to celebrate the range of wonderful experiences the online world can bring and to explore and raise awareness of risks.
Click here to link to the parent site to support 'Safer Internet Day'. You can also find additional information on the Thinkuknow.co.uk website and Parent Info. These sites are a freely available service launched by CEOP and The Parent Zone which bring together the most up-to-date content aimed at parents.
Please also find other useful documents, guidance and support below:
---
Click here for our 2023 Parent presentation
Useful conversation starters for home: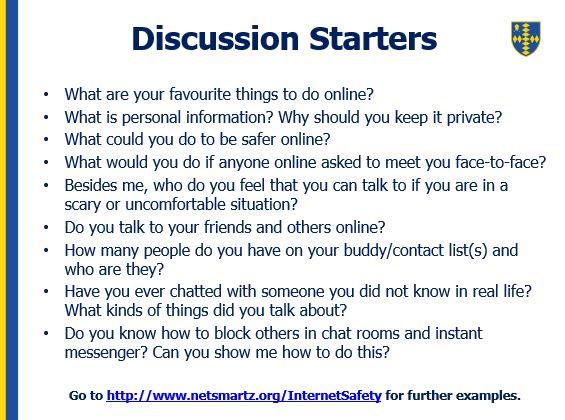 Activities for further learning and discussion at home:
3-7 year olds:
Digiduck online stories follow a series of characters in their development of online friendships, responsibility and critical thinking. Explore the stories here.
Smartie the Penguin online stories explore the themes of pop-ups and in-app purchasing, inappropriate websites for older children and cyber bullying. Explore the stories here.
6-11 year olds:
Childnet SMART Video Lessons: Watch this series of 6 mini video lessons hosted by the Childnet Education Team together with your child. You'll be guided through activities and discussions about different online safety topics. The sessions can be found here: www.childnet.com/resources/video-lessons
Useful Parent Guides - Social Media
Useful Parent Guides - Online Games